This is Stan Dobson's home page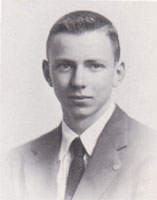 Here's a link to Soccer International.

Web site designed in 1991 and needs to be updated.
And here's a link to Stan's Blog
What have I done for the last 50 (yikes!!!) years? The first four years were spent at Brown where I had a triple major - Chemistry, pre med and German Literature. To be a bit more precise - two semesters in Chemistry, one in pre-med and the rest in German Literature.
Upon graduating, a friend and I decided to see the USA. With $100 each and my 1949 Plymouth we packed up and took off. Six months, thirty one States, and 20,000 miles later we returned to Providence with many a tall tale to tell for years to come. Most of the time we camped or slept in the car. We had dozens of part time jobs but most of our money came from caddying at golf courses in Colorado and California. Smuggling liquor across the Mexican border would have been one of our better sources of income had we not been caught. Fortunately, in this instance, ignorance of the law (a gallon every thirty days - not every thirty minutes!) was a good excuse and the Texas Rangers let us go on the condition we would not return to Mexico.
After a VERY brief career as an Arthur Murray Dance Instructor and a run-in with the Rhode Island Mafia, I joined the Army. Basic training at Fort Dix and then six months at Army Intelligence School in Baltimore.
One fantastic year in Monterey, CA at the Army Language School learning Russian. Spent the weekdays studying Russian and weekends in San Francisco or caddying at Pebble Beach Country Club - where I could also play for free after 3p.m.
Would you believe that the Army would send a German-Russian linguist to Berlin? I still don't believe it but it happened and I had two very enjoyable years there altho it was also my Untergang! We've now been married nearly 43 years!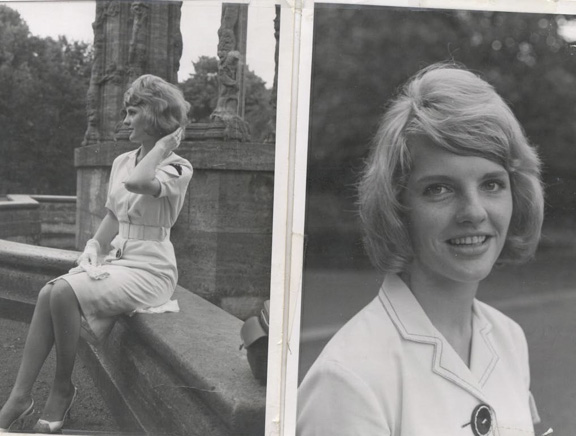 Yes, I was there when we had over 20,000 refugees coming into the refugee camp every day and we had to determine very quickly who were the good guys and who weren't. Within weeks they built the wall that slowed the influx of refugees to the very determined and the very lucky.
For the next year I was assigned to liaison with the West Berlin Police and investigating/reporting on incidents anywhere along the wall. Again, many memorable moments that made life in the Army worthwhile (?).
However, I had already decided that the Army and I wouldn't always be compatible so that career ended in late 1962.
For the next three years I visited colleges across the country trying to encourage Seniors to come to Washington to work for the Navy Department as engineers, architects, computer specialists, financial analysts and dozens of other positions.
For the next nineteen years I was a contract negotiator with the Office of Naval Research, the Naval Sea Systems Command and the Drug Enforcement Administration (altho I usually tell people I was an undercover narc). With your money I bought all kinds of research, torpedoes and mines, spectrometers to detect hidden drug labs and a wide variety of tracking devices.
But I saved the last seven years for perhaps the best job of all - philantropist! Again, with your money, I gave grants to scientists throughout the country to study everything from archeology to zoology. I was also responsible for the money that was spent at our astronomy centers in Puerto Rico, Chile, Arizona and Hawaii.
And, last but certainly not least, I was the lead negotiator for the agreement with the University of Michigan for the expansion of the NSFnet which soon evolved into the internet. Once I had the Internet up and running I decided to retire in March 1991 and concentrate on Soccer International which I had started in 1976. It is almost the ideal business - I really only have to concentrate on it 5-6mos. a year and can even adjust my work schedule during those months and, with customers and suppliers on three continents, I can travel extensively several months of the year.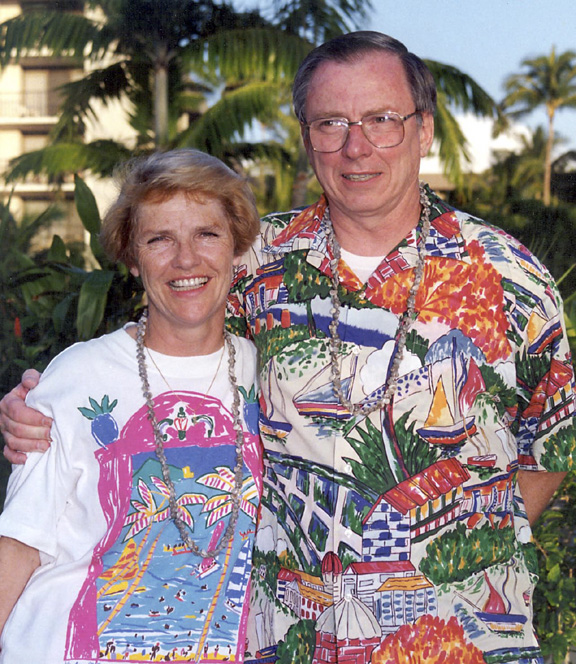 Here Rosemarie and I are visiting customers in Hawaii.
Haven't traveled as extensively as many of our classmates but have been to Germany, Norway, Sweden, Denmark, Germany, England, Ireland, China, Canada, Mexico and will be going to Australia later this year.
We have also taken 7-10 day trips to about ten different places in the Caribbean. Normally, we do not go anyplace more than once altho we have now been to the Caymans five years in a row. This year we are looking at the Dominican Republic. If you've been there recently, I'd like to hear from you soon.